Building Your College Social Circle Podcast
Last week Mike Stoute and I were guested on a college radio show. We were invited on the show to talk about scoring women in college. We touch on a variety of topics such as building social circles, throwing parties, making female friends, watching porn, joining frats…
We really had a whole lot of fun doing the show and we were even asked to take on our own one hour weekly radio show. We are seriously considering the idea and would like some feedback as to whether or not you guys would be interested in something like that.
Also, look out for Jimmy Suede who calls in to give his hilarious take on picking up college women (or umm high shcool girls.)
The great thing about the show was that the station manager (a woman) was reluctant to have us on, but when we were finished she told us that basically everything we said was true!
[MEDIA=116]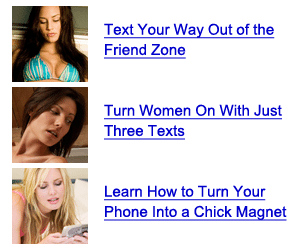 Simple Trick Tells You if a Girl Wants You to Kiss Her
Do girls leave you confused as to whether or not they like you?
Let's face it.  Girl's don't make it easy for you.  She will often send mixed signals leaving you unable to tell if she is being friendly or flirty.  If you read her signals wrong you risk rejection and embarrassment. Or worse, you blow it with a girl who wanted to kiss you.
Here is a simple and innocent move that will instantly tell you if you're in the friend zone, or if she's waiting for you to kiss her.