Hef's new girls? Twins Karissa and Kristina Shannon
Looks like Holly Madison and Kendra Wilkinson are out. Add in the fact that Bridget Marquardt is currently overseas and is expected to leave also. This leaves Hugh Hefner with chance of no ladies to share the grotto with… How could Hef possibly replace such fine examples of the human female?
With F'ing twins, that's how… blond, bubbly, "we look exactly a like" party twins.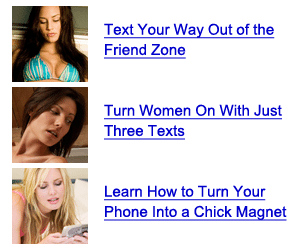 Simple Trick Tells You if a Girl Wants You to Kiss Her
Do girls leave you confused as to whether or not they like you?
Let's face it. Girl's don't make it easy for you. She will often send mixed signals leaving you unable to tell if she is being friendly or flirty. If you read her signals wrong you risk rejection and embarrassment. Or worse, you blow it with a girl who wanted to kiss you.
Here is a simple and innocent move that will instantly tell you if you're in the friend zone, or if she's waiting for you to kiss her.