Raven Williams from Vh1 Rock of Love and Charm School in Ghetto Gaggers Porno
Raven Williams from Vh1's The Rock of Love and Rock of Love; Charm School is apparently starring in hardcore internet porn flicks on the side.
One of Mike Stoute's good buddies runs a handful of porn sites and tipped him off to the fact that Raven Williams appears as Fiona in one of their raunchy new videos (NSFW).
Mike Stoute is working on getting some exclusive footage for our members section later today.
Funny on "Charmed School" the first thing she said was that she is an anomaly, and that she is too good and too smart to be on that show, and that there is something greater out there for her.  If by something greater you mean starring in a Ghetto Gaggers porno (NSFW).  Then yes there is!
I think its going take a little more than some coaching from Sharon Osborne to get this girl into a role as an acceptable member of society.  This isn't some homemade sex tape… this is perverse internet porn at its raunchiest!
Come back later if you're over 18 and want to see the exclusive clip!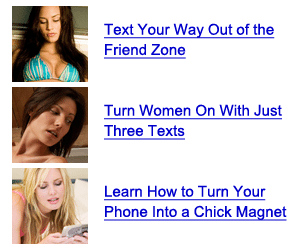 Simple Trick Tells You if a Girl Wants You to Kiss Her
Do girls leave you confused as to whether or not they like you?
Let's face it. Girl's don't make it easy for you. She will often send mixed signals leaving you unable to tell if she is being friendly or flirty. If you read her signals wrong you risk rejection and embarrassment. Or worse, you blow it with a girl who wanted to kiss you.
Here is a simple and innocent move that will instantly tell you if you're in the friend zone, or if she's waiting for you to kiss her.