Day Game Street Pickups
I just found this fairly new video on day game.  Being that I have absolutely no skill in day game, I am always amazed to watch guys cold approach women on the street.
Day game really is a an art of itself, as most of the principles that apply to bar/club game don't really work when you have 30 seconds to make your pitch.
[media id=230 width=500 height=400]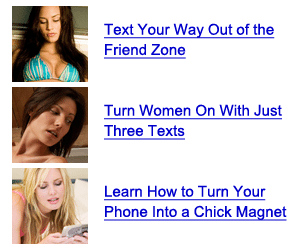 Simple Trick Tells You if a Girl Wants You to Kiss Her
Do girls leave you confused as to whether or not they like you?
Let's face it.  Girl's don't make it easy for you.  She will often send mixed signals leaving you unable to tell if she is being friendly or flirty.  If you read her signals wrong you risk rejection and embarrassment. Or worse, you blow it with a girl who wanted to kiss you.
Here is a simple and innocent move that will instantly tell you if you're in the friend zone, or if she's waiting for you to kiss her.