How To Make Money In Hollywood: Throw Beer At Malkovich
The old saying goes "nice guys finish last", the inverse of which is that "dickheads finish first", and we all know that goes double for working in Hollywood. (Watch an episode of "Entourage" for millions of examples.) But who would've thought that a great way to make money would be to simply perform the dickhead move of throwing an empty beer can at the reflective noggin of Serious Actor(!) John Malkovich?
During the filming of Being John Malkovich an extra did just this, and got paid for it. The story goes like this:
Apparently an extra on the film got drunk, and decided to throw one of his beer cans at John Malkovich. The director liked the scene so much that he left it in the film. The extra got his SAG card, a pay raise since he now had a line in the movie.
So, in honor of Spike Jonze's latest film Where the Wild Things Are hitting theaters last week, let's take a virtual trip way back to 1999. Enjoy: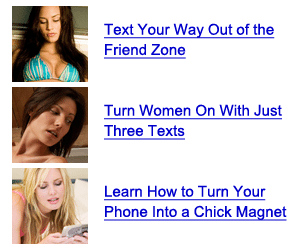 Simple Trick Tells You if a Girl Wants You to Kiss Her
Do girls leave you confused as to whether or not they like you?
Let's face it. Girl's don't make it easy for you. She will often send mixed signals leaving you unable to tell if she is being friendly or flirty. If you read her signals wrong you risk rejection and embarrassment. Or worse, you blow it with a girl who wanted to kiss you.
Here is a simple and innocent move that will instantly tell you if you're in the friend zone, or if she's waiting for you to kiss her.