Christina Hendricks Deserves Our Full Attention
Another season of Mad Men ended last Sunday, and while the world of inter-office shenanigans, torrid "nooners", martinis at 10 in the morning, and the continually mysterious life of Don Draper is all well and good — especially if it includes stuck-up British people getting their feet shorn off by a rogue riding lawnmower — the thing that we'll miss the most is seeing the lovely Christina Hendricks grace our HD-compatible television sets. January Jones gets enough attention, we say. Yes, she's hot too. But it's good ol' Red that makes our hearts beat a little quicker. So, until next season, here's some shots of her at her most lovely to keep you occupied during the hiatus.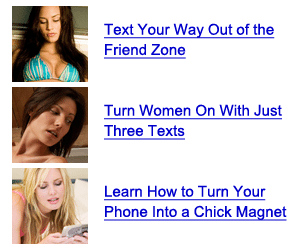 Simple Trick Tells You if a Girl Wants You to Kiss Her
Do girls leave you confused as to whether or not they like you?
Let's face it.  Girl's don't make it easy for you.  She will often send mixed signals leaving you unable to tell if she is being friendly or flirty.  If you read her signals wrong you risk rejection and embarrassment. Or worse, you blow it with a girl who wanted to kiss you.
Here is a simple and innocent move that will instantly tell you if you're in the friend zone, or if she's waiting for you to kiss her.