P.O.W. (Girls In Bikinis Doing Handstands Edition)
Pimp-It-Out Wednesday
Heavy.com gives us a gallery of the 20 hottest girls in bikinis doing handstands. Because, why not?
The Campus Socialite breaks down when it's alright to break down the "dibs" code.
Mankind Unplugged gets all infographic-ey for the TSA nonsense going down.
Impulse Magazine lists 5 movies that the lady will love that you won't hate.
A Blog 4 Guys lays down how to do chin ups properly.
BroBible introduces a surprisingly fun game: guess the movie these fake computer screens come from!
On Campus Drama explains why dropping out of college is the dumbest thing you could possibly do.
Just a Guy Thing tells us how to tie for different types of tie knots.
Brosome showcases an extraordinary hot model named Laura Dore. Thanks, Brosome!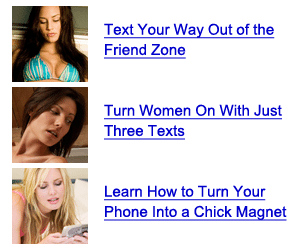 Simple Trick Tells You if a Girl Wants You to Kiss Her
Do girls leave you confused as to whether or not they like you?
Let's face it.  Girl's don't make it easy for you.  She will often send mixed signals leaving you unable to tell if she is being friendly or flirty.  If you read her signals wrong you risk rejection and embarrassment. Or worse, you blow it with a girl who wanted to kiss you.
Here is a simple and innocent move that will instantly tell you if you're in the friend zone, or if she's waiting for you to kiss her.