P.O.W. (Oh Hai, Isabela Edition)
Pimp-It-Out Wednesday
Brosome introduces us to the incredibly hot Brazilian supermodel Isabela Soncini.
Mankind Unplugged gives you the top 4 signs you're about to get dumped.
A Blog 4 Guys tells you how to seduce women with humor and cockiness.
Manosterone gives us 6 great years to bro down with your girlfriend's husband.
The Campus Socialite introduces why ESPN the Magazine and South Park should be in control of college sports.
Heavy.com broadcasts this surprisingly incredible cover of Radiohead's "Paranoid Android" by Weezer.
Check out these 25 Dating Advice blogs on First Dates and Flirting.
BroBible offers some advice for using (and not using) fake ID websites.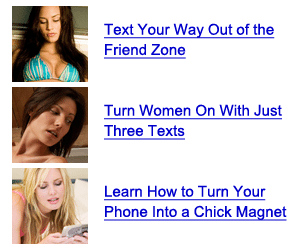 Simple Trick Tells You if a Girl Wants You to Kiss Her
Do girls leave you confused as to whether or not they like you?
Let's face it. Girl's don't make it easy for you. She will often send mixed signals leaving you unable to tell if she is being friendly or flirty. If you read her signals wrong you risk rejection and embarrassment. Or worse, you blow it with a girl who wanted to kiss you.
Here is a simple and innocent move that will instantly tell you if you're in the friend zone, or if she's waiting for you to kiss her.