We Now Know What A Blake Lively Is
For the longest time, Blake Lively was kind of like the Loch Ness Monster to us. We heard plenty of stories and rumors about her existence, but we really didn't do any investigative work on our own to confirm it. We could have passed her on the street and wouldn't have blinked an eye. We knew that she was in a something called "Gossip Girl," but c'mon, we're not going to watch that shit. But now that she's made the leap to actual big screen movies with "Green Lantern" — which, to be honest, we are not looking forward to at all — she is officially on our radar. And while we probably don't need to announce her existence to you, our fine readers, we felt we better make sure by throwing together a gallery of Ms. Lively.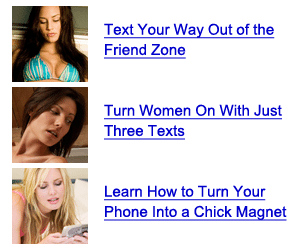 Simple Trick Tells You if a Girl Wants You to Kiss Her
Do girls leave you confused as to whether or not they like you?
Let's face it.  Girl's don't make it easy for you.  She will often send mixed signals leaving you unable to tell if she is being friendly or flirty.  If you read her signals wrong you risk rejection and embarrassment. Or worse, you blow it with a girl who wanted to kiss you.
Here is a simple and innocent move that will instantly tell you if you're in the friend zone, or if she's waiting for you to kiss her.