How Has Alison Brie Snuck Under Our Radar?
We've been hearing about this Alison Brie gal for a bit now. But, for whatever reason, we really never put a face to the name until just recently. We've seen every episode of "Mad Man" — if you're reading this website and you haven't, to ahead and close out the browser and watch them now; we'll allow it — but she never really registered too much with us. (Apparently, she plays Pete Campbell's wife.) And we've never seen an episode of "Community," so that wasn't a possibility. But now that we know, it's time to catch up on "Community" for a bit. If you need us, we'll be on our couch with Netflix Instant in front of us. In the meantime, enjoy the gallery.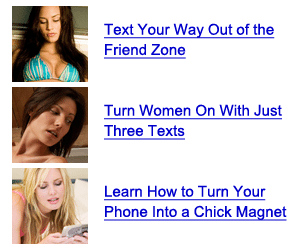 Simple Trick Tells You if a Girl Wants You to Kiss Her
Do girls leave you confused as to whether or not they like you?
Let's face it.  Girl's don't make it easy for you.  She will often send mixed signals leaving you unable to tell if she is being friendly or flirty.  If you read her signals wrong you risk rejection and embarrassment. Or worse, you blow it with a girl who wanted to kiss you.
Here is a simple and innocent move that will instantly tell you if you're in the friend zone, or if she's waiting for you to kiss her.