Must-Read: 20 Hot Photos of Rose McGowan
Yes, we just went through exactly why Rose McGowan should be at the forefront of your minds by listing her top five movies, so it's not like she's not getting the proper amount of face-time on this website. But man, when you stumble onto a link that promises the top 20 hottest photos of Ms. McGowan, just like Heavy.com has proclaimed, you kind of have to link to it, right?
So, then. Here's the link. And here is a small sample of what you can expect to find over there:
Happy Friday, everyone.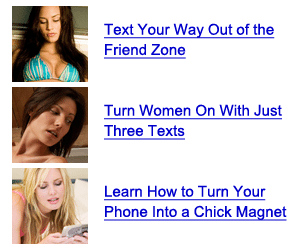 Simple Trick Tells You if a Girl Wants You to Kiss Her
Do girls leave you confused as to whether or not they like you?
Let's face it.  Girl's don't make it easy for you.  She will often send mixed signals leaving you unable to tell if she is being friendly or flirty.  If you read her signals wrong you risk rejection and embarrassment. Or worse, you blow it with a girl who wanted to kiss you.
Here is a simple and innocent move that will instantly tell you if you're in the friend zone, or if she's waiting for you to kiss her.