Remember When Lindsay Lohan Wore Clothes?
We're not going to be posting the images of Lindsay Lohan in Playboy that are leaking all over the Internet. We're just not that kind of site that's going to post naked photos like that. The good news is that if you simply do a Google search, no doubt you'll pop up about 6 million websites that are hosting the pics, so feel free to head over there whenever you do get the chance. We've seen them, and they're fine. Really. What you'd expect from a classy establishment trying to help a mostly-washed-up star make a comeback. Good for all of them. But the better news is that here, what we're doing instead, is remembering a time when she wasn't just LiLo in Playboy, but she was the beauty that was Lohan(!). So enjoy this trip down memory lane.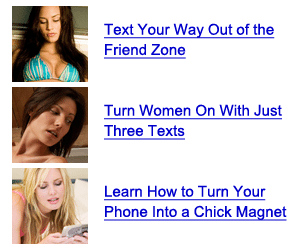 Simple Trick Tells You if a Girl Wants You to Kiss Her
Do girls leave you confused as to whether or not they like you?
Let's face it.  Girl's don't make it easy for you.  She will often send mixed signals leaving you unable to tell if she is being friendly or flirty.  If you read her signals wrong you risk rejection and embarrassment. Or worse, you blow it with a girl who wanted to kiss you.
Here is a simple and innocent move that will instantly tell you if you're in the friend zone, or if she's waiting for you to kiss her.