Tupac Comes Back to Life at Coachella
If you missed your chance to see Tupac Shakur in the 90s, you might get to see him live (in a matter of speaking) sometime soon. The late rapper "performed" this weekend at the Coachella music festival and might touring in the near future.
Despite having died in 1996, rap legend Tupac Shakur appeared at the Empire Polo Club in Indio, California on Sunday night in front of tens of thousands of music fans. Digital Domain Media Group (DDMG), which won an Oscar for effects in "The Curious Case of Benjamin Button," created a computer image of the rapper which was then beamed up on a mylar screen using a projector. Using a technique from the late 19thcentury known as Pepper's Ghost, DDMG created the illusion that the gangsta rapper was back in the flesh.
Tupac appeared onstage with two other big 90s rappers, Snoop Dogg and Dr. Dre. Thanks to this blending of old school and modern technology, thousands got to see the rapper "perform" hits like "Come With Me," "Gangsta Party" and "Hail Mary."
According to The Wall Street Journal, Dre and Snoop are considering taking this show on the road. The trio might tour in stadiums and/or smaller arenas. No plans are set at the moment.
Whether or not you think bringing Tupac back to life is brilliant or incredibly creepy, it's probably only a matter of time before megastars like Elvis and Michael Jackson start "touring" again. Would you pay to see a hologram of Kurt Cobain and/or Jimi Hendrix?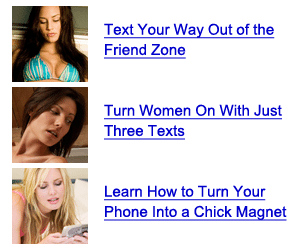 Simple Trick Tells You if a Girl Wants You to Kiss Her
Do girls leave you confused as to whether or not they like you?
Let's face it. Girl's don't make it easy for you. She will often send mixed signals leaving you unable to tell if she is being friendly or flirty. If you read her signals wrong you risk rejection and embarrassment. Or worse, you blow it with a girl who wanted to kiss you.
Here is a simple and innocent move that will instantly tell you if you're in the friend zone, or if she's waiting for you to kiss her.