Must-Read: Healthy Breakfast
As the old saying goes, breakfast is the most important meal of the day. Have a bad breakfast, and your day is messed up. Have a great breakfast, and you're on your way to having a wonderful day! At least, that's the mentality of those crazy breakfast folks. We are not entirely proponents of that kind of thing — honestly, we go plenty of days without breakfast at all other than a bit of coffee and a piece of toast, and end up doing alright for ourselves — but the main thing about breakfast is that, a LOT of items that people stuff down their throat in the morning can be really, really, REALLY terrible for them. The trick, then, is to make sure you know which breakfast foods are good for you, and which ones you should avoid.
So today we're heading over to Men's Health where they have a little quiz about the healthiest breakfast foods around. Among their bits of necessary information that you need to be aware of, is the fact that in the war of pancakes vs. waffles, the healthier option is:
Pancakes

"One Belgian waffle can have more than 600 calories," says Mike Roussell, founder of Naked Nutrition Network. "Try whole-grain pancake mix, or add some flaxmeal to regular mix to boost the fiber and nutrients." And ditch the syrup—it's too easy to let a drizzle turn into a downpour when you're using a plastic bottle shaped like a woman. Use unsweetened fruit spread for a healthy, low-calorie topping instead.
Kind of a shocker. Who knew! In any case, head on over to Men's Health to check out the rest of their quiz, and get to eating a healthy breakfast from here on out.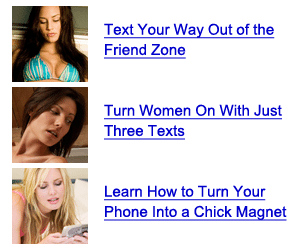 Simple Trick Tells You if a Girl Wants You to Kiss Her
Do girls leave you confused as to whether or not they like you?
Let's face it.  Girl's don't make it easy for you.  She will often send mixed signals leaving you unable to tell if she is being friendly or flirty.  If you read her signals wrong you risk rejection and embarrassment. Or worse, you blow it with a girl who wanted to kiss you.
Here is a simple and innocent move that will instantly tell you if you're in the friend zone, or if she's waiting for you to kiss her.