Bobby Rio Feels Vulnerable???
In a nasty email I recieved from a girl I was dating recently I was accused of sleeping with all the girls I do because I am afraid of being hurt. Her rationale was that I only allow myself to get close enough to develop a physical relationship, but then I bail before feelings get involved. She was a psych major and loved analyzing me!! My first reaction was to tell her to keep her psycho babble to herself… I sleep with the girls I do, because quite frankly I love to fuck and more importantly I love that moment where you get a girl naked for the first time!! And just haven't found a girl worth giving that up for.
But Bobby is not above admitting that he may have been wrong.. I find it's kind of a catch 22 with women I am dating. On one hand, most of them become clingy and needy which will only drive me away. And those girls I always wish would just read a fucking book on the game. I mean, fuck with my head a little, keep me interested. But then there are the rare few that play the game so well that they might not even be playing a game. And I've always rationalized that I don't have time for their shit. But now that I've been dating a girl who has that "I can leave at anytime" attitude, and I'm starting to think that maybe its this feeling of vulneribility that keeps me away from these girls. Yes, Bobby used the word vulnerable when describing how he's feeling. I wish I didn't fuck it up with that Psych girl cause I'm curious to see how she would view this self discovery. I mean I really hate this uncertainty. A week ago, I wasn't even sure I wanted to go out with her again… but this hot/cold attitude is driving me crazy. It's only more proof to all those people worried that girls will find out about our so called tricks. Daddy wrote the book on these tricks and he still falls for them.
Bobby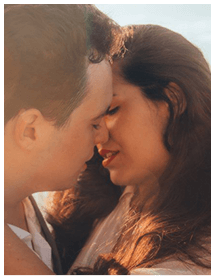 Simple Trick Tells You if a Girl Wants You to Kiss Her
Do girls leave you confused as to whether or not they like you?

Let's face it. Girl's don't make it easy for you. She will often send mixed signals leaving you unable to tell if she is being friendly or flirty. If you read her signals wrong you risk rejection and embarrassment. Or worse, you blow it with a girl who wanted to kiss you.
Here is a simple and innocent move that will instantly tell you if you're in the friend zone, or if she's waiting for you to kiss her.

We respect your email privacy
About MikeStoute Michael Stoute here, and at your service. I am a writer/editor/lover and a fighter. My words are weapons of wisdom so watch out, you may learn something...or better yet, maybe you can teach me something! Have a question? Please try to leave it in the comments, it will get a faster response than an email. Otherwise, Email Me