Heidi Montag Bikini Pics
Places To Meet Women
Shop Right. Best Buy. Algebra Class. The Gym. Alcoholics Annyomous. The Dentist Office. Your Bank. Your Job. Bus Stops. The Mall. The Cafeteria. Volley Ball League. Dodge Ball League. Yoga Class. Cooking Lessons. Starbucks. 7 Eleven. WaWa. The Street. Night Class. Bars. Restruants. Jogging Around The Block. Dance Lessons. Barnes And Noble. Happy Hour. Rock Concerts. Wine Tastings. Brewerys. Meditation Class. Photography Class. Sex Toy Shops. Blockbuster Video. Football Games. College Campus. High Schools? Sushi Bars. Night Clubs. Parks. White Water Rafting. Single Parent Support Groups. Porn Conventions. Casinos. Target. Ikea. Smoke Shops. Hooka Lounges. Pychatrist's Office. Strip Bars. Horse Back Riding. Match.com. Young Republican's Club. Chat Rooms. Jewelery Stores. Business Networking Meetings. Real Estate Offices. Hospitals. Soup Kitchens. Adult Friend Finder. Kick Boxing Class. The YMCA. Animal Shelters. Beauty Pagents. Flea Markets. Single's Cruises. Young Entrepeneur Meetings. Home Depot. Apple Picking. Divorce Support Groups. Bike Clubs. Court. Whole Foods.
These are all places you can meet women. I don't ever want to hear that you can't find any women to talk to. If you're lucky you'll run into a hot blonde in a bikini like Heidi Montag here. I can't guarantee she'll be hanging around in Soup Kitchens and Support Groups but hey, its worth a shot!!!!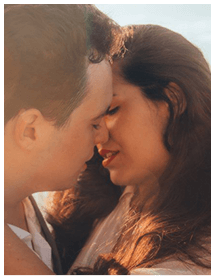 Simple Trick Tells You if a Girl Wants You to Kiss Her
Do girls leave you confused as to whether or not they like you?

Let's face it. Girl's don't make it easy for you. She will often send mixed signals leaving you unable to tell if she is being friendly or flirty. If you read her signals wrong you risk rejection and embarrassment. Or worse, you blow it with a girl who wanted to kiss you.
Here is a simple and innocent move that will instantly tell you if you're in the friend zone, or if she's waiting for you to kiss her.

We respect your email privacy
About Bobby Rio I'm Bobby Rio, one of the founders of TSB. I tend to write about what is on my mind so you'll find a mix of self development, social dynamics and dating articles/experiences.  For a collection of some of my favorite articles check them out.