Scott Baio Headed into The Player's Hall of Fame
Scott Baio marrying Renee Sloan means one thing to me; We won't have to put up with another season of Scott Baio is 40 and Single. This is also good news for fans of The Pick-up Artist since VH1 has one less show to fit into the schedule.
Personally if I was Scott Baio and had the track record he had of nailing Hollywood's hottest ladies I would not have thrown the towel in for Renee Sloan… but maybe she has a good personality lol. Or maybe his confidence is still shattered from the time Mystery stole his girlfriend right in front of him.
All feelings aside, Scott Baio deserves to go into The Player's Hall of Fame. I am officially nominating him. This is a guy who was banned from the Playboy Mansion for sleeping with all 12 Playboy Playmates of the month.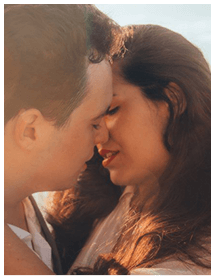 Simple Trick Tells You if a Girl Wants You to Kiss Her
Do girls leave you confused as to whether or not they like you?

Let's face it. Girl's don't make it easy for you. She will often send mixed signals leaving you unable to tell if she is being friendly or flirty. If you read her signals wrong you risk rejection and embarrassment. Or worse, you blow it with a girl who wanted to kiss you.
Here is a simple and innocent move that will instantly tell you if you're in the friend zone, or if she's waiting for you to kiss her.

We respect your email privacy
About Bobby Rio I'm Bobby Rio, one of the founders of TSB. I tend to write about what is on my mind so you'll find a mix of self development, social dynamics and dating articles/experiences.  For a collection of some of my favorite articles check them out.