That's Amore with Domenico from Shot at love with Tila Tequila
I think this guy is great. The whole time I was watching "Shot at Love" with Tila I knew they were not going to let Domenico go just like that(MTV that is). This kid has personality and he has a lot of confidence. He might come off kooky and crazy, but I believe most women want him. Remember the laugh is a powerful thing!
I was a little confused about his decision to take Ashley (who I voted a reality TV [[[AFC]]] ) as his confidant, but then after thinking a little it was a good choice. If he had picked a real cool good looking guy he might run into problems on the show with him steeling girls. I don't see that problem with Ashley. And good for Ashley too! I doubt they were going to take him back as a teacher after he was being wipped in the dungeon and locked in a cage. I couldn't imagine the PTA meeting for that one.
Anyway, I look forward to a crazy season of "That's Amore", with my buddy Domenico…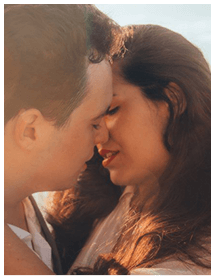 Simple Trick Tells You if a Girl Wants You to Kiss Her
Do girls leave you confused as to whether or not they like you?

Let's face it. Girl's don't make it easy for you. She will often send mixed signals leaving you unable to tell if she is being friendly or flirty. If you read her signals wrong you risk rejection and embarrassment. Or worse, you blow it with a girl who wanted to kiss you.
Here is a simple and innocent move that will instantly tell you if you're in the friend zone, or if she's waiting for you to kiss her.

We respect your email privacy
About MikeStoute Michael Stoute here, and at your service. I am a writer/editor/lover and a fighter. My words are weapons of wisdom so watch out, you may learn something...or better yet, maybe you can teach me something! Have a question? Please try to leave it in the comments, it will get a faster response than an email. Otherwise, Email Me