Eva Mendes Topless is Art at its Finest
Eva Mendes Sexy Topless Vogue Spread
You have to love European magazines. Somehow these magazines have of way of talking actresses to pose nude or topless. They dress it up and try to pass it off as art… but the fact is, they're showing titties!!!
Although I don't normally find Eva Mendes all that attractive I am oddly arroused by the photo of her breast getting massaged by a pair of feet… and her tits getting smashed down by a glass holder. She was pretty hot in this Eva Mendes gallery I posted a few months back as well. Maybe Hitch was onto something.
Maybe we should claim TSB is a French magazine and we'll have Megan Fox posing naked on here soon.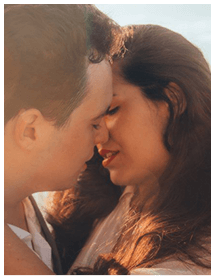 Simple Trick Tells You if a Girl Wants You to Kiss Her
Do girls leave you confused as to whether or not they like you?

Let's face it. Girl's don't make it easy for you. She will often send mixed signals leaving you unable to tell if she is being friendly or flirty. If you read her signals wrong you risk rejection and embarrassment. Or worse, you blow it with a girl who wanted to kiss you.
Here is a simple and innocent move that will instantly tell you if you're in the friend zone, or if she's waiting for you to kiss her.

We respect your email privacy
About Bobby Rio I'm Bobby Rio, one of the founders of TSB. I tend to write about what is on my mind so you'll find a mix of self development, social dynamics and dating articles/experiences.  For a collection of some of my favorite articles check them out.