Erogenous Zones

Many women often like to complain that men always want to rush into sex, and tend to avoid foreplay. I think one of the big reasons that this occurs is because men truly don't know which areas of a woman's body is arousing to her. It is his lack of knowledge of these erogenous zones that leads him straight to her vagina or breasts (the areas he is familiar with.)
(read: 10 ways to tease a woman)
Here is a brief guide to the less talked about spots that get her hot and bothered. Most men don't realize how powerful these spots can be, so chances are you'll be one of the few guys who takes the time to explore these areas adding to your allure as a great lover.
Slide your hands around her shoulders– The area from the back and sides of the neck to the ends of the shoulder blades is one of the most erogenous zones in a womans body. This is particularly powerful if you're standing behind her.
Navigate around her navel– The tension a woman feels as you stroke and kiss the area from her rib cage down to the top of her pubic V, is exhilarating. The longer you withhold making your way to her pubic region? the more turned on shell be when you finally get there.
Follow the Treasure Trail– The treasure trail is the most sensitive area of a woman's lower torso. This is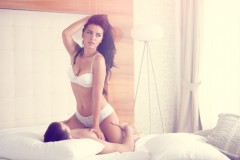 the crease or line that extends across a woman's lower abdomen from one hip bone to the other, passing right over the top of the region covered with pubic hair (or hopefully clean shaven!)
Caress behind her knees– The skin behind the knees is thin and soft and responsive to touch because nerves are so close to the surface.
Her thighs will have her begging for it– It is no secret that a woman's thighs are the gateway to the pleasure palace but the trick is to resist the urge to go straight for the thighs. The thighs should be the last place you stimulate through kissing and stroking before moving to her genitals.
If you make it a point to touch upon each of these areas next time you're with a woman you will definitely send a message to the woman that you are experienced and in tune with a womans needs and desires.
==> Video reveals exactly how to turn a woman on (secret spot revealed)