Need to Feed Your Model Cravings? Try Abigail Clancy
It's been a hot bit since TSB Magazine has had a model grace its hot celeb page… Try Abigail Clancy. Need her resume? Spent her teens in girl band Genie Queen that never went anywhere, followed by a bunch of "who knows or cares" till she appeared on reality TV. After Placing 2nd on Britain's Next Top Model in 2006 and about 12teen Men magazine she famous enough to get paid to look hot and stand around. Last year she was rated 7th in FHM's100 sexiest women in the world.
Interesting Fun Fact: Her pro-soccer playing Boyfriend dumped her via a fax issuing a statement via his lawyer disclaiming any further involvement with her. Sadly they are back together.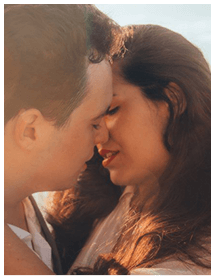 Simple Trick Tells You if a Girl Wants You to Kiss Her
Do girls leave you confused as to whether or not they like you?

Let's face it. Girl's don't make it easy for you. She will often send mixed signals leaving you unable to tell if she is being friendly or flirty. If you read her signals wrong you risk rejection and embarrassment. Or worse, you blow it with a girl who wanted to kiss you.
Here is a simple and innocent move that will instantly tell you if you're in the friend zone, or if she's waiting for you to kiss her.

We respect your email privacy
About PeteTheFreshman Finding hot chicks, gadgets and hanging out with bands is a tough job, but someone has to do it... Self proclaimed gonzo journalist, tech monkey, and lush, PeteTheFreshman writes the posts that require the least amount of writing skill.