This next article is part of an ongoing series here at TSB Magazine called The Success Principles. The series is based on the 64 principles laid out by Jack Canfield in his course of the same name. If you're new, I always suggest starting any series from the beginning.
Principle 7: Unleash the Power of Goal-Setting
It was a few years back where I first discovered the real magic of goal setting. On the advice of a long forgotten/newly found fantastic goal setting course I had gotten as a high school graduation present, I finally decided to sit down and put my goals on paper.
I took it a step further and created a goal book. In this book I wrote down seven of my most urgent and important goals. With each goal, I wrote a brief summary of why I must achieve, the benefits I will receive from achieving it, my action plan and a deadline for achievement. I also pasted inspiring pictures and quotes throughout the book.
On the suggestion of Tracy, I read through the book for fifteen minutes every morning, and fifteen minutes before going to bed every night.
To say I achieved magic would be an understatement. Five months after composing the book, I was in the best shape of my life, hooked up with a girl I had wanted for years, was semi fluent in Portuguese, and had paid off a big chunk of my credit card debt. For the first time in my life, I was experiencing the benefits of the power of focus.
Canfield says:
Once you know your life purpose, determine your vision, and clarify what your true needs and desires are, you have to convert them into specific, measurable goals and objectives and then act of them with the certainty that you will achieve them.
The biggest problem that I had always made with goal setting throughout my life was that I was neither clear or nor specific about my goals. For instance, if I found that I was out of shape, I would just mentally set a goal to lose weight and go to the gym. . The problem with these types of goals, is that there is no clear outcome described for its achievement. I didn't state exactly how much I would weigh by a certain date in time.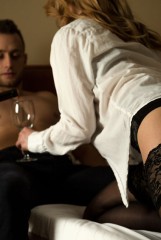 I've learned it is important to be as specific as possible with your goals. Include as much detail about your goal as possible. If your goal is to "get in shape" include how much you'll weigh, what your body fat % will be, how many miles you'll run every morning, what size clothing you'll wear, how much weight you'll be able to bench press..and so on. And then put an exact date you want to see these results by.
Remember, vague goals produce vague results.
A vague idea would be "I would like to own a home on the ocean." A clear specific goal would be, "I will own a 4,000-square foot house on Pacific Coast Highway in Malibu, California, by noon, April 30, 2009."
Which inspires you more, the idea above or the clear specific goal?
I think what really made the difference for me, when I achieved the goals I spoke of earlier, was the fact that I wrote them out in great detail. I was even so specific as to name the exact girl I wanted to hookup with by a certain date (I never recommend focusing on a specific girl.) In my goal book I put a few pictures of the two of us together. For my goal of getting shape, I wrote the specifics and then cut out a picture of my ideal body, and pasted my head on top of it.
When you write it all down, your subconscious mind will know what to work on. It will know which opportunities to hone in on to help you reach your goal.
It also important to write down goals that will stretch you. When you're designing your life, you want to continually be growing. By focusing on goals that require you to learn new skill sets, expand your vision of whats possible, build new relationships, and learn to overcome your fears and roadblocks you will achieve the "ultimate goal" of becoming a master at life.
continue to the next page for the workshop