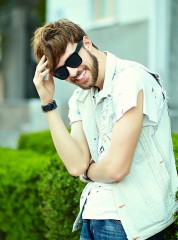 Everyone wears denim: your mom, your cousin, your enemy, your friends. The minute you slip into a pair of jeans, no matter how lovingly they cup your bum, no matter how distressed, dyed or bedazzled, you are immediately less original. Instead try looking into some other casual pant alternatives like corduroy.
Pacsun.com has a handsome pair of Grey corduroy pants with a straight leg that sits squarely on your hips. Both a flattering and modern fit. You can wear this pant with t-shirts or even a stylish button down for a night out.
The corduroy colors you will want to look for are browns, mustard, tan, forest green, grays or indigo. If you are going for an ultra stylish feel go ahead and indulge in a white pair, but be prepared for the backlash of being seen in such a pair. Any over the top style on a man will often make him look feminine or fake. Not the most coveted of adjectives for a mans appearance.
As for a solid black pair of corduroy pants, this will appear a little outdated. If you want a darker pair of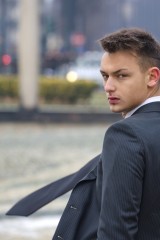 pants, try a charcoal Grey shade or a distressed black tint. Another option for a chap itching for some stark black corduroy is to pick up a blazer in the fabric. Express is currently carrying a stylish solid black blazer with a great fit.
Some tips for wearing corduroy pants, you dont want to wear any other corduroy items with them as well as any leather clothing. There are exceptions to this warning but it takes a certain bad ass type of fella. Besides that go ahead and treat corduroy pants like jeans.
Sport the same kind of shoes you would wear for any occasions. Sandals, Converse or Vans for day and your favorite night shoes whether it be leather dress shoes or funky boots. Also similar to jeans, it is best to avoid tucking in your shirt.