This next article is part of an ongoing series here at TSB Magazine called The Success Principles. The series is based on the 64 principles laid out by Jack Canfield in his course of the same name.
Principle 13: Act As If
You've probably heard the phrase, "fake it till you make it." This principle is loosely based on a very similar idea. The strategy entails thinking, talking like, dressing like, acting like, and feeling like the person who has already achieved your desired result.
Canfield defines the phenomenon:
Acting as if sends a powerful commands to your subconscious mind to find creative ways to achieve your goals. It programs the reticular activating system (RAS) in your brain to start noticing anything that will help you succeed, and its sends strong messages to the universe that this end goal is something that you really want.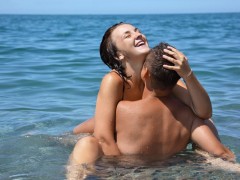 The first time I noticed this phenomenon first hand was back in college. It was Mike Stoute, editor of this magazine, who first introduced me to the "fake it till you make it" mentality. At the time, Mike was only so-so with women, had just flunked out of college, was broke, and extremely out of shape. Yet, Mike always carried himself in a way that projected success in all fields of life. When Mike would talk about himself, I would often find myself questioning his sanity, as he was clearly not seeing the same reality I was. He seemed to be living in an alternate universe where he was skinny, successful, and had women flocking to him.
For a short time period, my friends and I would all disucss Mike's behavior behind his back. Mike's philosophy at the time was:
If you act like the man, people think you're the man, if enough people begin to think you're the man, you become the man.
At the time most of us laughed off this mentality of Mike's. But soon something odd seemed to be happening. Little by little Mike was beginning to appear almost prophetic to us. In almost a matter of months Mike went from scrapping by to making $70,000 a year. He had suddenly dropped like 40 pounds, and had slowly amassed a small mountain of women he was dating.
Mike had spent enough time acting, talking, and thinking like a big shot… the universe was beginning to treat him like one.
In my own life, I recently published a book on real estate investing in the Dominican Republic. Two years ago I knew next to nothing about the subject. But having traveled to the island several times a group of friends and I decided that there was tremendous opportunity to invest down there. And since there was no books on the subject, I decided to write one.
In order to learn as much as I could, I would often walk into office after office of realtor's down there and act like a big shot author. They would shower me with knowledge and drive me around the island looking at property.
Within six months I had enough knowledge to write a book on the subject. So I did. From playing the part of big shot author, I began getting treated like one… and by being treated like one, I developed the mind set of one.
The law of attraction simply states that like attracts like. The more you create the vibration- the mental and emotional states- of already having something, the faster you attract it to you. This is an immutable law of the universe and critical to accelerating your rate of success.
If you want to be a successful person you need to begin acting like one immediately. How do successful people act? For one, they exude self-confidence, ask for what they want, and say what they don't want. They think anything is possible, take risks, and celebrate their successes. They save a portion of their income and share a portion with others. You can do all of those things now before you even become rich and successful. These things are free to do. You just have to intend them. And as soon as you start acting as if, you will start drawing to you the very people and things that will help you achieve it in real life.
Remember the proper order of things is to start now and be who you want to be, then do the actions that go along with being that person, and soon you fill find that you easily have everything you want in life- health, wealth, and fulfilling relationships.
Give it a shot, you've got nothing to lose.