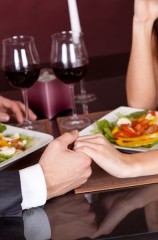 Pick up lines. A dirty phrase in the dating community. But the fact is, long before you ever heard of Neil Strauss, Mystery, David DeAngelo, or any other pick up artist… chances are, you wanted to know some good pick up lines.
I realized the infatuation guys have with pick up lines this weekend on an over night visit to Atlantic City with eight of my friends from college. Most of these guys have been out of the game for awhile, but wanted to test their social skills nonetheless.
Of course, the first thing they asked me is "give us some good pick up lines."
I started to explain to them how they're not pick up lines, they're openers… but I quickly realized that to an outsider, there is not really a difference.
Which got me thinking… what exactly is the difference?
I mean, I have collections of the greatest pick up lines from the greatest dating coaches around the world. And I'd be lying if I said I never used a one of these openers. I've probably used them all at some time or another. And often they got me the intended result.
But something struck me in Atlantic City this weekend.
I lost my friends for a bit, and while standing in line for a club, a random drunk guy leeched onto me. He kept telling me to stay with him, he's going to get us a couple girls. I was curious to see this guy's style. He seemed pretty confident in himself, so I just sat back and let him do his thing.
I tailed along with him for three approaches, all of which ended miserably for him. I could see from the minute he opened his mouth that the women had put their guards up. And as we walked away, I began to realize what it was: The guy had no character. Every decent looking girl to him was just another possible sale. They weren't human beings, they were sales leads. And no one, man or woman, likes to be approached by a salesman.
With this realization, I came to finally understand, that openers, pick up lines, cat calls… are all bullshit if you're intention isn't honest. The minute you look at the woman as anything but another human being… you've already lost. Even when you occasionally win, you've really lost.
This is not a post recommending not using openers, it is a post reminding you that successfully opening a women up, takes more than a few good lines.
On the recommendation of one of our readers, I watched the movie The Big Kahuna. There is a scene towards the end of the movie that sums this entire philosophy up much better than I can. Listen carefully to this Danny Devito monologue, watch it a couple times, and watch it with the context of pick up lines and openers.
[media id=211 width=500 height=400]