Amy Lee from Evanescence is Goth-tacular…
I new her band Evanescence, but until fiveteen minutes ago had I no clue what her name was. I'm too lazy to look up if she's rocking a solo career now, but I'm pretty sure thats the case. Man there is something about not skinny goth chicks that really gets me going for some reason…. maybe I wasn't hugged enough when I was little? Not sure if anyone read the recap of our Playboy Mansion adventure in LA but the night we were shadowing the instructors I made my first serious attempt at trying to pic up a goth girl.  Seeing Amy Lee makes me want to go out and give it another shot.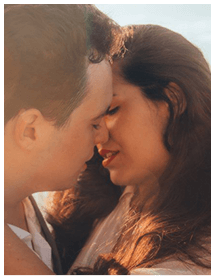 Simple Trick Tells You if a Girl Wants You to Kiss Her
Do girls leave you confused as to whether or not they like you?

Let's face it. Girl's don't make it easy for you. She will often send mixed signals leaving you unable to tell if she is being friendly or flirty. If you read her signals wrong you risk rejection and embarrassment. Or worse, you blow it with a girl who wanted to kiss you.
Here is a simple and innocent move that will instantly tell you if you're in the friend zone, or if she's waiting for you to kiss her.

We respect your email privacy
About PeteTheFreshman Finding hot chicks, gadgets and hanging out with bands is a tough job, but someone has to do it... Self proclaimed gonzo journalist, tech monkey, and lush, PeteTheFreshman writes the posts that require the least amount of writing skill.