It can be death if a girl goes on a trip before you banged it. Something strange happens to a girl's brain where things reset on the road. She comes back less enthused than ever to get it from a guy who was working on her.
Let me give you a recent example.
I met a girl at a bar and made out with her within a half hour or so. I tried to seal it that same night but couldn't due to bad logistics. I got the consolation prize of her number instead. The first time I called her I left a message and she returned my call almost instantly. Not only was I sure she liked me, but that she wanted to see me soon too.
We initially met on a Saturday and agreed to meet for drinks on a Tuesday. On Wednesday she was leaving to Miami for two weeks for business. I knew what I had to do…
After our date ended I suggested to walk her home (she lived nearby) since I wanted her to "get home safe." She agreed and we walked to her front door. She asked if I wanted to come in, sparing me the important line that would have gotten me in (page 97 of Bang). We're in her room and things progress from there, but I get healthy doses of resistance. She tells me this is only our fast date, she doesn't move that fast, blah blah blah.
"No problem," I tell her. But after a few minutes I'd start back up and get just a bit farther than I did before until she tells me to stop again. This was repeated about eight times over the course of two hours until we were both naked and I banged.
Do I normally break down resistance for two hours like that? Very rarely am I that persistent, which was very close to bordering on slimy. I did it this time because she was leaving the next day. It was my life or death duty to tap that because I knew that this would be my only chance.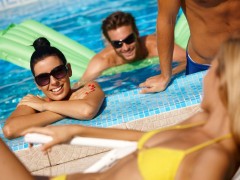 Not ten minutes I was out of her house did she call me wanting to wish my goodbye. The next day before her flight she texted me and it was obvious she had a strong liking to me. I dare even say that she was crazy about me. Do you want to guess what happened when she came back? Nothing. I haven't seen her since! She returned my phone calls with text messages days later and I eventually gave up.
To me this makes sense. Read the first paragraph again. While I do not know why travel resets things, it almost always does. If you find your girl is leaving for a trip more than a couple days in length, you should push harder than you normally do to seal the deal. You may not get a chance when she returns.
Getting a girl to the bedroom and dealing with resistance is the final stop before you notch your belt. It makes no difference how well you can attract a girl if you don't know how to seal the deal. It would be a waste if you don't know how to properly finish the job once you've already gotten her attention.
In Bang I have a chapter devoted specifically to "Late Game" that describes the best techniques and even explains the optimal order to take off her clothing while you have her in bed. Click here to learn more about how Bang can improve your game.
Roosh is the author of Bang, a 60,000 word guide to getting laid that we review here.