Listen man…
There's a difference between the guy who jumps around acting drunk all night and the guy who ends up between the sheets with the hot girl from the volleyball team.
Both types of guys start off their night seemingly the same.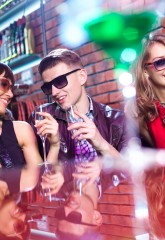 Smiles, laughs, fun, a few drinks.
But at some point in the night – the two split ways.
One type of guy gets laid – the other type of guy gets pizza and maybe some mozzarella sticks.
Now, I'm not hating on mozzarella sticks at all btw, i think they are amazing – but like anything else in life, they have their time and their place.
So what's the difference?
It's the ability to lead.
The guys that can lead can get people to follow.
Those that cannot lead, simply can't.
Can you lead a group of guys to a late night bar spot?
WIll they listen to you?
Or will you "go with the flow"
More importantly…
Can you lead a girl to the bedroom?
Or do you just hope for the best?
Leadership makes the difference on campus.
A girl sees you leading = attraction.
A girl notices you are leading your conversation with her = attraction.
You lead a girl to the bedroom = fun time.
So today's lesson?
LEAD.
In all situations, take it upon yourself to lead.
To make things happen.
Get the plans going.
Lead conversations confidently.
Get comfortable being the new you.
Lead and the girls will follow.
Keep on rockin',
Mark
PS A huge section of the conquer your campus manual is dedicated to developing you as a leader and showing you quick, easy ways to be come the type of guy who naturally finds himself leading. You can check it out at www.conqueryourcampus.com
You won't be sorry with your decision to get the book now, because you'll start seeing results immediately. And if you don't, just let me know and we'll get your every last penny back. No worries.