How to Cut Fat Out of Your Diet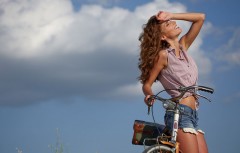 Every single layer of fat has a load of muscles trying to get ou and if you don't have a good enough diet to support your fitness plan, a lot of your hard work and effort will go unnoticed. A lot of people seemingly forget that training isn't just about the gym and hitting the weights, it also goes back to when you're at home, and inside your fridge.
A lot of us also keep hearing every where Carbs are evil and so on, forgetting that fat isn't great for us either. So that's one of the most important things for us to do? look at our daily fat intake. The recommended daily intake of fat is at 90g, and we should have no more than 31g of the saturated kind.
Saturated fats are the ones that are solid when at room temperature, e.g Butter and fat from pork chops. Saturated fats are especially bad, because they also raise your cholesterol levels.
There's fat in nearly everything you eat. You can't live without it. But, try to incorporate some of these techniques whether your cooking, buying or eating your food.
Instead of frying your food, grill, bake, poach, boil or steam it. This cuts down on the additional fat.
If you have to fry, use a non-stick pan, as they require less oil.
When frying, only add the tiniest drop of oil, then roll it around, or get a kitchen towel and wipe it around the pan. An even better alternative is to ditch the cooking oil, and buy a low-fat spray. One tiny drop of oil adds around 15g of fat, whilst a spray only adds 1g.
Make sure you only spread a thin layer of butter or margarine on your bread. When your having baked beans or jam, its unnecessary to have butter, as you won't taste the difference anyway.
When buying meat, always be on the lookout for the leanest cuts. After you've bought your meat, put it in the freezer, and the fat will turn white, which makes it easier for you to find and cut off, as to get a leaner cut.
If you love tuna sandwiches (like me), or any other food that requires mayonnaise, make sure you go for the low-fat alternative. The two are about the same price anyway.
Use skimmed milk when cooking. You can't really taste the difference when it's cooked, and by substituting a cup of skimmed milk for a cup of cream, and you've saved yourself 60 calories. If you want something thicker, use low-fat yogurt, or fromage frais.
When eating salads, have no salad dressing. The dressings are usually calorie and fat-laden, and have no real benefits.
When buying chicken or turkey, buy it without skin. Half the fat on poultry is either on the skin, or directly below it.
With mincemeat, dry fry it, and pour off all the fat as it melts.
Cottage cheese or half-fat hard cheese is a great substitute for the normal kind.
When buying canned fish, buy it in water or brine, the oil kind adds unnecessary fat to the fish.
Fruits are your friend. For every bite into that apple, there's less room for that cheesecake.
Continue on Next Page to Read Specifics for Various Situations
About Anthony Duong Anthony currently lives in London, UK, and has returned there after quitting his job in Hong Kong, where he worked as an English Teacher. He's a gym rat, and loves to play rugby. He is currently working as a Soccer Coach for teenagers, where he passes on his extensive knowledge on all things. He also loves to play the guitar.