Zan Perrion is widely regarded as one of the preeminent authorities on dating and seduction in the world today. Author Neil Strauss devoted an entire chapter to him in his New York Times bestseller The Game: Penetrating the Secret Society of Pickup Artists, calling Zan "…the undisputed heavyweight of the genre… in four years, he never once asked for advice, he only gave it…". Seattle's Komo TV has called him "The World's Greatest Seducer". Learn more about zan at ZanPerrion.com
How can a guy avoid falling into the "friend zone" with a girl from his social circle?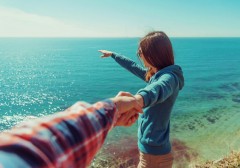 We always think that a woman will put a guy into the "friends zone" because of some arbitrary set of criteria on her part. But it is always the guy who creates the "friends zone" himself. Because we are so afraid of offending her, we completely dial down our sexuality, and act like a great friend – attentive, available, friendly, etc. We never let her know with our words or our actions that we are men. And so she responds appropriately, and we get frustrated from always being in the "friends zone".
If a guy is in the friend zone, is there any way to get out?
As you can imagine, once a girl vies you as "just a friend", it is very difficult to break out of that box. The only thing that can break it is a radical change in behavior, and even then it is not easy.
What approach do you usually recommend guys take when approachig a woman at a bar or club? and why?
Be completely unattached to the outcome. The only reason we feel "rejection" is because we have an agenda. The only agenda a guy should have in a bar or a club is to have fun. Once we internalize this, it is impossible for any one girl to affect the way we view the world.
You're known as having a fun playful sense of humor… Do you have any recommendations for guys looking to improve playfulness and humor?
I always tell guys to stop being so serious. We are always trying to be appear cool, aloof, and non-needy – and it is always so transparent to women. So how do you do that? You simply make a choice that no matter what happens, you are going to amuse yourself. Similar to the previous question, the secret is to never take any of it seriously – not you, not her, not the situation. "Ease and delight" should be your mantra – throughout the evening!
What books have most inspired you or helped you become the guy you are?
Well, I am different in that I have never read any relationship book. Or evolutionary psychology book. I always read history books. I read the Memoirs of Casanova, of course, and the Autobiography of Benvenuto Cellini. The kind of books that have inspired me are the stories of men who lived lives of adventure and creativity. And in truth, if any man steps outside of his comfort zone and lives his life doing what he wants to do, all women will find him attractive, and there is no need for "picking up girls".