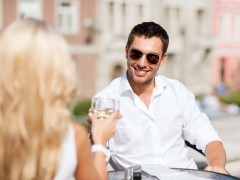 Magic and Pick-Up
Mystery used it as his secret weapon; "Style" ( Strauss) talked about spending hundreds of dollars to learn a few secrets so he could wield its curiosity-producing powers; and before them David Copperfield used it to marry a supermodel.
Magician's have a strange effect on people. Almost everyone loves a good magic trick. It makes them feel young again and a sense of wonder. Women often have overwhelming reactions to it when done with style. It's entertaining…to say the least.
But why is that we never think of magician's as guys who get laid? Most guys think that using magic tricks to pick up girls makes you look like you're trying too hard to impress…like a dancing monkey?
That's because most "magician's" use magic to entertain…not to attract and seduce.
I would have thought that too if you told me you were going to show a magic trick to a girl and make her want to go home with you. But I know better because of one fateful night when I learned a simple bar trick with a pack of matches, turned to the girl next to me to show off my new trick, not even trying to pick her up, and witnessed how much she opened up to me, the fun we had and how "well" that night turned out.
Strauss said in his bestselling book, The Game: "What makes me different from the last 20 guys who approached her? If I can bend a fork by looking at it, well that's a little different."
He saw right away that demonstrating value and showing that you can stand above the rest of the chumps, even with a few simple magic tricks can make you shine like a rockstar in the eyes of women.
Women are turned on by fame and celebrity. Because a well done magic tricks invokes images of David Blaine and Criss Angel wooing women on the street, they can help but associate you with pre-selected identity. Not to mention a well done magic trick just kicks ass—I don't care who you are.
But there's a delicate balance. Using magic in your game is like using nitrous in your car. You can accelerate your success, but if you don't know what you're doing it can blow up in your face.
You can't pick up women with magic until you can pick up women without magic.