Sitcom Hot Chick Showdown: Unhappily Ever After
There's a pretty good chance that my obsession with red heads started by watching Nikki Cox play Tiffany Malloy on Unhappily Ever After…  The series started off based around Jack Malloy, a schizophrenic, alcoholic father who converses with a stuffed bunny named Mr Floppy.  By the show's third season it became apparent that Tiffany was the break out character of the show…  Much like Kelly Bundy from Married… With Children, Tiffany was never afraid to show off any of her assets and appeared to have a mini skirt for ever occasion.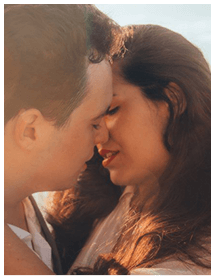 Simple Trick Tells You if a Girl Wants You to Kiss Her
Do girls leave you confused as to whether or not they like you?

Let's face it. Girl's don't make it easy for you. She will often send mixed signals leaving you unable to tell if she is being friendly or flirty. If you read her signals wrong you risk rejection and embarrassment. Or worse, you blow it with a girl who wanted to kiss you.
Here is a simple and innocent move that will instantly tell you if you're in the friend zone, or if she's waiting for you to kiss her.

We respect your email privacy
About PeteTheFreshman Finding hot chicks, gadgets and hanging out with bands is a tough job, but someone has to do it... Self proclaimed gonzo journalist, tech monkey, and lush, PeteTheFreshman writes the posts that require the least amount of writing skill.