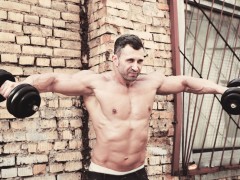 I know a lot of guys will use not being able to get to the gym as an excuse to skip a workout – they think that if they can't climb aboard their precious pec-deck or preacher curl that it's impossible to make any solid gains.  Although this may seem like a viable excuse to you, because it's one of the many you've been using – its absolute garbage, you can get a hell of a workout without ever leaving your dorm room or apartment, even if it's not much bigger than a closet.
Even if you've grown accustomed to the fancy machines at the gym and haven't done any kind of more traditional exercise since middle school, you'll be able to get an incredibly kick-ass workout with nothing more that yourself and the floor.
Think about the things that they used to make you due in gym class, back before your biggest concerns included e-mails, texts and video games – remember push-ups, squat thrusts, mountain climbers and jumping jacks?  By using these simple movements and a few variations to change things up once in a while you can get as good a workout as you ever could in your fancy gym, without spending any money or having to go through the hassle of leaving your home.
The most important movement of your weightless, gymless routine is going to surround the squat thrust.  If you never had to do these in gym class, you truly missed an awesome full body movement.  Begin by standing with your arms at your sides, the first movement is dropping into a full squat at which point you place the palms of your hands on the ground at shoulder width.  Kick your feet back into push-up position and perform one push up, when your body returns to the top position in the push-up pull you feet back to where they began and return to the upright position in which you started – that's one rep.  In all honesty, performing four to five sets of squat thrusts to failure would be enough to give most people a hell of a workout, but that would probably get old really fast, so in an effort to keep these workouts fresh and reasonably exciting you should incorporate other bodyweight movements that will act as effective supplements.
You can perform splits with bodyweight routines just as you would normally do with your gym workouts – performing exercises for the lower body one workout and then exercises for the upper body the following workout.