Milla Jovovich is the reigning queen of Ass Kick
In honor of the beast women fighting in the next UFC, this is the first part of my 12teen part *cough* until i get bored of this *cough* series on women who I want to have kick the shit out of me.
First up Milla Jovovich who, just from the number of ass kicking rolls, might just win. She was Leeloo in the 5th element, a roll the won her best fight at the years MTV Movie Awards. I feel that would have been enough to get her on the list, but she was playing for keeps. She then had the title role of The Messenger: The Story of Joan of Arc, the Title role in Ultraviolet, a part in Gun Kata (a movie that had a martial are based off of using guns), and Alice in the whole Resident Evil Series. This chick probably can kick just about anyone's ass (movie or otherwise).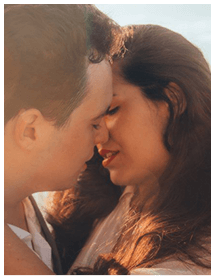 Simple Trick Tells You if a Girl Wants You to Kiss Her
Do girls leave you confused as to whether or not they like you?

Let's face it. Girl's don't make it easy for you. She will often send mixed signals leaving you unable to tell if she is being friendly or flirty. If you read her signals wrong you risk rejection and embarrassment. Or worse, you blow it with a girl who wanted to kiss you.
Here is a simple and innocent move that will instantly tell you if you're in the friend zone, or if she's waiting for you to kiss her.

We respect your email privacy
About PeteTheFreshman Finding hot chicks, gadgets and hanging out with bands is a tough job, but someone has to do it... Self proclaimed gonzo journalist, tech monkey, and lush, PeteTheFreshman writes the posts that require the least amount of writing skill.