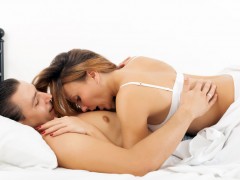 Modern American culture probably has the most confused concept of masculinity in the history of men. That's because we American males have it easy. We have no obligation to join the military. We have no painful tribal initiation ceremonies. We don't even have a tradition of chest-thumping man-on-man violence that defines older, more "masculine" cultures.
No. Instead we have soccer practices and sympathetic moms and really cool dads and a confusing code of chivalry. It's quite an easy life for the typical American male. Except for one burning question: when do we become men? Is it when we lose our virginity? When we turn 18? When we graduate college? When we get our first job? When we start living on our own?
As Americans, we usually wait for external validation to let us know we're ascending society's ranks. Diplomas, promotions, and high fives are all indicators to the American male that someone thinks he's on the path toward manliness. And for a lot of men, simply chasing society's external validation allows them to pretend they are on the fast track to manhood.
But it doesn't work like that.
Why? The reason is both a blessing and a curse. Because America is such an ambiguous culture (when it comes to gender), we have no "benchmark" of reaching manhood. So a man must decide for himself when he graduates from boy into man. In other words, becoming a man is completely subjective, internal, and completely unknown to most American males. But deep down, we know exactly what it means to be a man…
….and that's why movies like Fight Club are so popular among American dudes. That's also why movements like "The Seduction Community" resonate with so many guys. There's just something about violence and approaching women that's so…so…manly.
But just what is it?
Simple. It's guys facing their deepest fears.
Let's be honest: the prospect of getting your ass kicked by a maniacal dude or rejected by an attractive female is really fucking scary. I believe that's part of the reason "drinking with the boys" is considered "manly" and often results in either (sloppily) fighting guys or (embarrassingly) approaching women. In actuality, drinking just numbs the pang of fear, making fighting and approaching women less terrifying.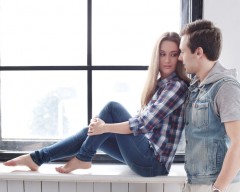 However, fighting is pointless and approaching women is awesome – so let's stick to the latter. And if you stick to the latter, you have what I am a suggesting is the modern "rite of passage" for the American male: getting girls equals becoming a man. Show me a guy who can effectively approach, attract, and manage a beautiful woman, I'll show you a real man. Period.
I realize a wide spectrum of men may be reading this article – everyone from guys with very little fear of approaching women to guys with tons of fear. However, the more fear you feel before the approach, the more potential you have for manliness. Literally, the more fear you ignore, the more of a man you become.
Rejoice in the glory of courtship (and how it relates to your masculinity). Fittingly, our whole notion of chivalry comes from a tradition of knights vying with one another for the hand of a lady. Chivalry intertwines violence and courtship. These days, we're lucky we (usually) don't have to face the fear of violence and approaching to get the girl; the fear of approaching is formidable enough!
And that's because it has to be.
If it were any easier, we'd have to search elsewhere to find our manhood. But we don't. Your rite of passage is right outside your door. It's that total cutie strolling by that you just know you want to approach. Realize: approaching her is simultaneously completely about her and not about her at all. Approaching her is about facing your fear. And that extends to every stage of courtship.
Every mistake you have ever made with every woman you have ever interacted with comes back to a common denominator: fear. Whether it was fear of the approach, fear of losing her, fear of rejection, fear of looking dumb – think back on every mistake you've ever made, and I guarantee it all comes back to fear. Therefore, to improve your dating skills means facing your fears and becoming a man.
Now go forth and get your creep on – it's your rite of passage!