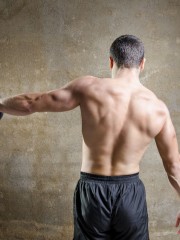 Come on – what guy doesn't love a tall, frosty beverage? – And if you were not only allowed to consume said beverages, but were actually encouraged to do so in your weight loss efforts – damn, that would really be nice wouldn't it?
Well don't get too excited, because I'm not talking about the types of beverages that I know that you think I am – but it is true that you can melt away some serious pounds with a drink…
You've probably seen the ads for them plastered all over your TV, hell one of your many ex-girlfriends probably habitually drank them whenever she wasn't quite feeling ready for beach season, you guessed it – meal replacement drinks could be the answer to your love handle/spare tire problem.
As you may have noticed from previous pieces here on TSB, I'm not necessarily the biggest fan of dietary supplements, but I do realize that for some people, following a clean diet free from fast food garbage doesn't seem to be an option for one reason or another.  Some guys refuse to make the necessary time it takes to quickly prepare food from quality ingredients that will keep them looking and feeling better, so when the choice is between the drive thru and a meal replacement drink – I would always suggest the meal replacement option.
The excuses for poor eating habits are just as numerous and ridiculous as those for not working out, but the beauty of meal replacement drinks and powders is that they instantly do away with all of the excuses: they are cheap, they can be consumed on the run, they are just as quick and easy to get a hold of as a meal at the drive through – really the only difference between fast food and the meal replacement options is that the meal replacement options actually have real nutritional benefits.  Many of the more popular brands of meal replacements contain around 200 to 250 calories and are loaded with anywhere from 20 to 40 grams of muscle building protein and contain very little fat (some brands are a little high in the sugar department, so it's always good to check out the labels before purchasing).  Most meal replacement options are also loaded with essential vitamins and minerals and some even give their consumers nearly 100% of the recommended daily allowances of those vitamins and minerals.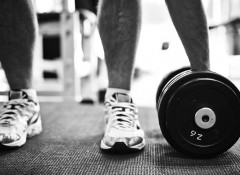 Now I'm not necessarily suggesting that you go out and buy yourself a case of Slimfast – I know it would be hard for any self-respecting man to be in the busy break room at the office or at a park crowded with hot chicks to pull off drinking a big ol' can of Slimfast.  Thankfully, for those of us that are a little concerned with how we present ourselves in public, there are a wide variety of meal replacement beverages on the market today: companies like Met-Rx, EAS and Myoplex offer meal replacement options that look just like (and that contain pretty much the same ingredients as) the protein powders used by bodybuilders, powerlifters and strength athletes.
What makes this type of "diet" work so well is that there is nothing complex about it – in fact, there isn't a whole lot of options that are easier than "shake well and drink".  If you don't have a whole lot of weight to lose, your transformation could be as simple as replacing one of your daily meals for a reasonably short period of time in order to reach your goal.  If you are exceedingly heavy, you may need to replace two of your meals a day and you may have to use the meal replacements for a longer period of time – if you think that you may require this type of action it would probably be a good idea to consult with your doctor and maybe even request a referral to a nutritionist to make sure that this plan of action would be the best route for you to follow.