"Ur so charmin it make me nervious. I see u 2nite – XoXo," she texts me as I step onto the platform of Grand Central. The words stop me hot in my tracks. Swarms of impatient commuters file past me as I savor the moment. I look at her name, again read the text. My heart flutters as someone crashes into me from behind. "Keep moving!" a voice – obviously a New Yorker's – commands. Reality comes crashing back into focus, but only for a heartbeat.
As I walk uptown, I'm so excited it's tempting to skip like a giddy schoolgirl. I catch myself giggling as I cross 3rd Avenue. I can't stop flipping my phone back open and glimpsing at her text. Her breathy voice fills my head, informing me of how charming I am. Even though I met her just once – and briefly, at that – I can imagine her sweet Greek accent: "Eye-ah zee yous tonight!" And how bout those X's and o's! The universal symbols for hugs and kisses! I imagine more than that – so much more it makes me… well… nervious.
When I get to my apartment, I throw the door open as if I'm teeing off a SWAT raid. I grab a mop and vigorously clean my tiny studio apartment. I slave like Cinderella, making sure everything sparkles like a fairy tale. Because a fairy tale is what this has been so far…
We'd met briefly – albeit passionately – in the unlikely location of a "Bargain Books" aisle in Barnes & Noble. I saw her and was transfixed. Before I let a peep of internal dialogue sabotage the masculine rush that comes at the sight of a beautiful woman, I was already mid-sentence into my introduction. For the life of me, I scantly remember the conversation; but vividly recall everything it implied: primal attraction. We gazed into each other's eyes as if to say, not here but later – definitely later. If it wasn't for her infatuated receptiveness, a bit of nervousness might've seeped into the moment. But this woman was too sexy, too passionate, too Greek to let anything other than raw, outright desire destroy what we'd created. Asking for her number was like asking for a bookmark in a story whose final chapter was destined to be inappropriate for minors – very inappropriate.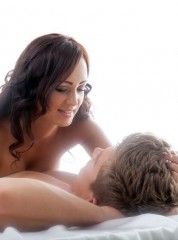 Wasting no time, I set up a liaison the next evening. That's right, this wasn't a date, a meet up, or a day 2 – it was a mother-fucking liaison. That's because it was what it was: a rendezvous for sex. She knew it. I knew it. Her Blackberry definitely knew it. So charmin it make me nervious. If that's how she felt after Bargain Books, our liaison was really going to charm her pants off – pun certainly intended. I had her meet me in front of Barnes and Nobles, conveniently only 10 short blocks from my scrubbed-down, sexed-up apartment.
I got there fashionably late to find her waiting fashionably stunning. Her dark Greek features came to life when she recognized me through the foggy spring evening. "Robby!" she tried to say, but it sounded more like Ruby, "How long I wait!" I let her fall into my arms like something out of a foreign film. Our lips grazed for the first time. "What we do tonight?" she demanded. "What we do?"
"Tonight," I laughed. "We fall in love, come on!" I grabbed her hand with momentum, yanking her on course. I had a very specific flight plan: walk 6 blocks and stop for a layover in a hookah bar then onto my apartment for our final destination: the lay. My rationale being the hookah bar would make us thirsty, which was oh so convenient because a chilled bottle of Sauvignon Blanc was waiting for us back at my place. It was all going according to plan until I took the first toke of the hookah pipe…