For achieving the best possible physique you need a good mix of strength training to build lean muscle and the right amount of conditioning to melt away excess fat.  Most guys don't have a lot of problem getting to the gym for strength training, it's easy to mix up exercises so your workout doesn't get boring and there is quite a bit of satisfaction that stems from throwing around a heavy barbell; conditioning work, on the other hand, can get downright boring if you follow the more traditional methodologies.
There is still hope for those that struggle with the thought of participating in any type of cardio work though, it's known as the Tabata Protocol, but I like to refer to it as "four minutes that will kick your ass."
The Tabata Protocol was designed by it's namesake to increase the anaerobic capacity of elite level athletes without running the risk of jeopardizing the hard work that they had put in developing muscle/strength.  The Tabata Protocol is the exact opposite of what you would expect when you hear the words "conditioning workout," but despite the drastic differences it works incredibly well for burning fat and increasing endurance.
The basic premise of the four minute cycle is to work at full capacity for twenty seconds, then rest for ten seconds; the pattern is continued until eight work cycles have been completed.  The beauty of Tabata is that it works with virtually any cardio exercise and it will produce profound results if it is followed correctly.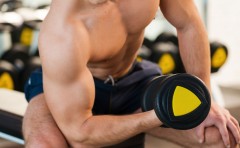 You can use jumping rope, burpees, jumping jacks, cycling, elliptical trainers, etc., etc.  The key to the success of the program is that you adhere to the time structure and that you work hard for the duration of the work cycles. Four minutes may not sound like a lot of time, twenty seconds doesn't sound long either but when you are working at full capacity even twenty seconds can seem like an eternity.
You may find that you aren't even capable of completing the full eight work cycles when you first begin the Tabata Protocol, but don't get discouraged – perform as many rounds as you can adhering to the times at a high level of intensity and increase the workload gradually until you can finish it as prescribed.
Once you are capable of completing one eight round session without being utterly spent, try adding another four minute cycle directly following the first with a different exercise.  The new workout might consist of eight rounds of twenty seconds on the elliptical trainer followed immediately by eight rounds of twenty seconds of burpees; there is no extra rest between exercises, stick to just the ten seconds allotted by the formula.
Think about it, a beginner can get an incredible conditioning workout in around four minutes (nine to fourteen minutes with a warm up) and even advanced trainees can push themselves to the limit in just eight or twelve short minutes (fifteen to 22 minutes with warm up) – this sounds a hell of a lot more doable than the customary 30-60 minute conditioning routines that were customary just a few years ago (and still are today in many circles).
Once you've familiarized yourself with the intensity and structure of Tabata, you can freely experiment with different movements to work your entire body and maximize the potential results.  One of my favorite Tabata sessions involves a four minute cycle of 12 lb sledge hammer swings followed by a four minute cycle of burpees – complete and total hell that really taxes the whole body.
Just like any other extremely intense physical activity, you shouldn't be doing the Tabata Protocol every day – give yourself at least a day in between sessions to allow your body adequate time to recover.  Next time you're scheduled for some conditioning work, give Tabata a whirl – in you aren't convinced yet those four minutes will make you a believer.