Time For A Second Look On Courtney Cox

Usually, if an actress gets one big shot in the realm of television of being "the new hot thing" before the harsh glare of the spotlight becomes too much and they are forced to succumb to a diet of chocolate, ice cream, meatball sandwiches and every alcoholic beverage ever created. (see Alley, Kirstie) Not so for "Friends" star Courtney Cox, who has found herself once again gracing primetime television as the star of ABC's "Cougartown". Now, I haven't seen the show yet, but judging by the previews showing Cox in various states of undress as she attempts to bed men half her age, she still has it. The least believable aspect of the show is that she, somehow, is having trouble having sex with guys. With that in mind, here's a quick gallery of hers. Enjoy.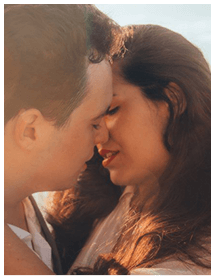 Simple Trick Tells You if a Girl Wants You to Kiss Her
Do girls leave you confused as to whether or not they like you?

Let's face it. Girl's don't make it easy for you. She will often send mixed signals leaving you unable to tell if she is being friendly or flirty. If you read her signals wrong you risk rejection and embarrassment. Or worse, you blow it with a girl who wanted to kiss you.
Here is a simple and innocent move that will instantly tell you if you're in the friend zone, or if she's waiting for you to kiss her.

We respect your email privacy
About Rick Mosely Rick is the editor for TSB magazine.