Zoe Saldana Is Bankable And Spankable
Check out this list of recent movies for the beautiful 31-year-old actress Zoe Saldana: the new Star Trek, the original (and best by far) Pirates of the Caribbean movie, and the upcoming sure-to-be huge blockbuster by James Cameron Avatar. Unfortunately, in Avatar she's covered up by stupid blue computer graphics during the entire time while playing Neytiri. Hey Cameron, here's some advice! If you have a beautiful woman like Ms. Saldana at your disposal, why not, I don't know actually show her!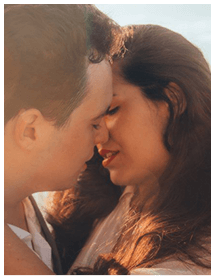 Simple Trick Tells You if a Girl Wants You to Kiss Her
Do girls leave you confused as to whether or not they like you?

Let's face it. Girl's don't make it easy for you. She will often send mixed signals leaving you unable to tell if she is being friendly or flirty. If you read her signals wrong you risk rejection and embarrassment. Or worse, you blow it with a girl who wanted to kiss you.
Here is a simple and innocent move that will instantly tell you if you're in the friend zone, or if she's waiting for you to kiss her.

We respect your email privacy
About Rick Mosely Rick is the editor for TSB magazine.