Of all the trips I take, I still think getting in the middle of a forest is the best possible way to spend a day. Maybe it was growing up with a small patch of woods in my backyard. Maybe it's a love of trees. Maybe it's chopping down a tree so that I can make myself a fine toothpick. I'm not sure, but here are a few of the things that make a trip to the woods worthwhile.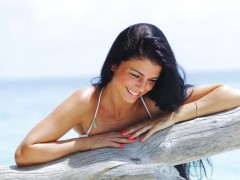 Everyone always wants to see animals and not just any animals, but cute ones. Peter Rabbit. Slappy Squirrel. Robbie the crazy cross-eyed deer. Guess where you find those animals? Well, besides the side of the road, it's going to be the forest. Why do you think people want to save the rain forest? It's because of the cuddly animals.
Well, cuddly animals, and the animals that want to eat them that are also cuddly. Who doesn't get excited about seeing a bear?* Quick, get a picture. Aww, he's eating our Nutter Butters. He thinks he's human. Bear can haz Nutter Butter?
*I, for one, don't. Maybe it's because the only bears I see are trying to break into trashcans. Call me crazy, but they seem to be the forest's hobos. When I think of hobos, I think of clowns. Shudder. Can you imagine a 500-pound grizzly bear coming at you with a frowny face and a red puffy horn nose? Terror. Sheer terror. Note to self, need to write the movie "Clown Bears".
So, as everyone likes animals and animals live in the forest, you agree with my assertion that trips to the forest are cool. No? You need more? Well, I don't think you can see the forest without the trees. At least that's how my saying goes, because I'm a big fan of trees. Big trees. Small trees. Flowering trees. Trees that will be used to make my furniture. What do you get when all of the trees are gone? You get Cleveland. Shudder.*
*Note to self – write movie, "Clown Bears from Cleveland."
Ok, I can tell you still need to be convinced. How about food? Yes, the woods can be filled with food, besides all of the barbecued cute animals. I'm talking nuts. Lots of nuts. I could spend all day naming the nuts. Plus, edible mushrooms, like the tasty morel or the delicious chanterelle. Don't forget wild blackberries. But, you know who else likes nuts, mushrooms and berries? Those damn clown bears. They'll eat anything. Including us. Shudder.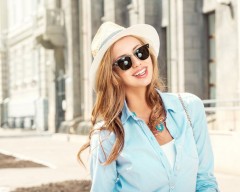 Still no? Ok, here's my last attempt. Silence. You finally stop your tramping through the woods and you realize that you've just been listening to your feet crunching the leaves that cover the trail. Then you stop and the silence is amazingly overwhelming. Then, the forest starts to move again. It starts to speak. You're suddenly surrounded with noises that you can't identify and you look in every direction, but you can't see a thing as the trees block your vision in every direction. You're alone, and no one can hear you.* Oh shudder.
*Note to self, write movie, "Alone in the Woods: Meeting the Clown Bears from Cleveland."
Ok, when I said forest, I really meant trees in a park with your car parked nearby. Now, if you'll excuse me, I'm going to go enjoy my cool trip to the living room.