So, how many of us have traditions that we keep even though they don't make sense? Wearing a Kurt Warner jersey on the days the St. Louis Rams play? Check. Not changing your lucky underwear? Check. Inviting goats into your place of work? Check.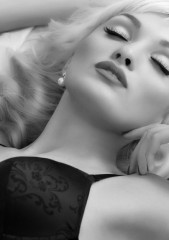 Well, pitchers and catchers reported to work, and this is part of a tradition that began back in the days when pitchers got more fat and out of shape than position players and needed extra time to prepare for the season. (Now, those players just play first base.) Catchers were needed as well, because that way the pitchers would have someone who would play catch with them and they wouldn't feel so bad about their bodies.
With multi-million contracts on the line, pitchers are a lot less likely to show up to work looking like Kirstie Alley or Mark Mangino. Yet, still they are the first ones to get to work. Which got me thinking: what are some of the other traditions that don't make sense?
First, there's the whole 'managers wearing uniforms' problem. Is Joe Torre suddenly going to play third base? No. Then why is he wearing a uniform, except to bring out the beauty of his eyes? I can see the counter argument saying that if Joe Paterno would have wore football pads he wouldn't have broke his leg two years ago. Trust me, this is a slippery slope. If every sport thought like baseball in this regard, could we shake the image of Stan Van Gundy in a tank top out of our minds? Shudder.
What about Spring Training in Florida? I mean now they have two teams in the state, do they really need a month and a half of baseball all to themselves? If you were feeling altruistic, you could move Spring Training to Haiti for a year. If you wanted to let other countries see the game, you could go to the coasts of France and Italy or maybe Peru and Ecuador. I'm sure the players would love to see the Vatican or the Inca Trail instead of another Olive Garden or Applebee's.
Speaking of food that can't be good for you, I have two words: hot dogs. Yes, they're as American as baseball, apple pie and Toyotas, but so was driving drunk until we woke up and realized that it isn't exactly good for anyone's health. Hot dogs may taste delicious, but so does a cool and smooth Camel. I'm not saying ban hot dogs; just mix in some vegetables and things will be better. So as not to start a riot, introduce the change slowly, like making sure the vegetables are all deep fat fried.
Lastly, it is really getting old that the Cubs keep losing all the time. Stop hogging the losing tradition. The White Sox and the Red Sox finally won, it's time for you to do the same. Let someone else be the loveable losers for a while. The Royals need to be known for something.