By Keychain
If meeting women in the daytime is something you're interested in, then this primer is for you. It contains the basic information on day game that I present at most bootcamps I instruct at. In my opinion, this is what you need to know to get out there and start meeting people outside of a nightclub environment.
I find the greatest consistency and satisfaction using direct openers such as:
"Excuse me, I saw you from over there and I'd regret it all day if I didn't come met you, because you look absolutely gorgeous. Hi, I'm Keychain, what's your name?"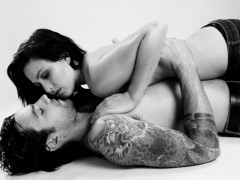 Direct openers like this (recently popularized by Sebastian Drake, Soul, Dr. Yen, etc.) usually open quite strongly and provide a good platform for you to launch the conversation from. At the very least, it's nice to say nice things to people – it'll make you feel good and give her positive emotions too.
There's nothing wrong with starting a conversation in another style such as indirect, functional, comedic, etc. There are lots of examples of these types of openers online and you'll want to come up with your own as the situation dictates. Here are a few to get you started:
– "Hey do you know where the nearest Starbucks is?"
– If she's reading a book: "What are you reading?"
– If she's wearing head/earphones: "What are you listening to? I'm bored of my current playlist." And then take her iPod and start teasing/appreciating her playlist.
– If she's in a shop or coffee house, deliver with comedy: "I saw you from out there and had to come meet you. I just couldn't let a pane of glass stand between us and true love."
If the girl is sitting or stationary, you can just walk over to her and deliver your opener. If she's moving, I'll always approach from behind, even if it means letting her walk past to get my angle.
To stop a moving set, approach from behind and touch the inside of the elbow gently with two fingers. You can also touch the triceps area or the back of the forearm. Say "excuse me" to get her attention, stop walking as she turns towards you and then deliver your opener.
To further stop her forward momentum and start the transition to conversation, extend your hand to shake hers. Give your name and ask for hers. She will, as most people would, automatically shake your hand and give you her name. From here, you're ready to transition.
A Common Trap With Direct Openers
Don't try to solicit a reaction. So many guys get addicted to the big, gushing reactions that you will occasionally get from your direct approaches and "look" for it every time. Instead of being an expression of their personality and core intent, the direct opener becomes a tool to chase a reaction, they deliver it and wait for the big WOW! It's approval-seeking and not attractive.
Try this frame: Her beauty/vibe/aura moved you to approach. Something in your core just said "yes". So you're going to go meet her, express your core and see if she's the kind of girl you might connect with and would like in your life. Self-expression, without the need for approval, mixed with a curious fascination for her as a unique creature.