This week's question is something I have probably been asked 700 times with very little exaggeration. In fact there's even an Usher song of a similar name. So without further ado, let's discuss the question of turning Friends into Lovers and how to get out of the friend zone.
I know you're going to probably tell me to go after someone else and there are too many fish in the sea …  but I've got a female friend that I really think I want to go for. Even if it fails, I've got to give it a shot. What kind of approach do you think I should take?

Thanks,
JR
Like I said before, I've been asked this question a million times and I usually respond with something like "you need to move on, because it's probably not going to work." But since you seem determined to try anyway, I'll give you the best chance of success at a low probability situation.
First of all you have to understand that when you attempt to make a friend into a lover there is a huge probability that it won't work and you will ruin the friendship. In order to make this work, you need to provide her with something she cannot get anywhere else. What you're going to provide her with is someone who sees her, not as she may be, but how she wishes she was.
Introducing the Golden Mirror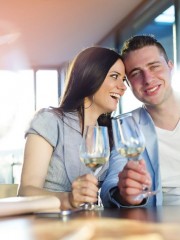 The Golden Mirror is a part of my 7-Step Breakthrough Comfort process in which I backwards engineered love. The Golden Mirror involves figuring out what a girl's idealized self image of herself is, then showing her that you believe in her ability to achieve it. Through this process you will begin to give her the best compliments she's ever received in her life.
To begin the Golden Mirror, you need to figure out what her idealized version of herself is. One of the best ways to do this, is to ask her the following classic Self Help question:
"If you could be anything in the world with no chance of failure, what would you be?"
Now her response to this is going to be VERY important. Whatever she tells you, here is going to be the idealized version of herself, which you're going to compliment her on and show her how she could achieve it.
One of the girls I dated, Meggan, worked in a strip club, but wanted to one day be a psychologist. She was great at reading people so I told her that ability told me she could be a great psychologist. By complimenting a girl and showing her how she could become the idealized version of herself, you present her with something she can't get from any other person. This is the only way I've ever seen Friends turned into Lovers.
Before I wrap this up, I want to add a word of warning that if you do stuff like this, you're going to be creating a substantial emotional connection and dependence with this woman. If this does work, you'll probably end up having a girlfriend not a fuck buddy. Just keep that in mind as I'd hate to have a woman get hurt because of stuff I'm teaching.
Hope that helps,
JS- The King Of Content