Yes, Tina Fey Is Extraordinarily Sexy
While she may not seem the ideal person to inhabit this Monday afternoon space usually reserved for the hottest girl of the week, Tina Fey is one of those gorgeous women who tries to hide her beauty. Whether it's behind a pair of horn-rimmed glasses or in a motherly-kind of outfit (probably with a sweater of some sort) Fey does not attempt to tempt the male libido by showing off her gams (that's old-speak for "legs") or unbuttoning a few buttons of her blouse to showcase her Hanz and Franz (that's both an SNL reference — where she was the head writer for a period of time — and slang for her boobs! I'm pointing this out because I'm proud of myself). Even in the ads for "Date Night", which comes out this week, she appears mostly disheveled and unkempt. But don't let her fool you, folks. Underneath it all, Tina Fey is not only talented and probably the funniest woman working today, but also damn sexy. The below gallery will support this claim.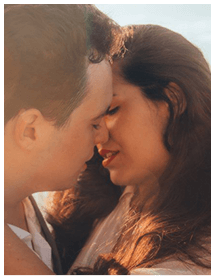 Simple Trick Tells You if a Girl Wants You to Kiss Her
Do girls leave you confused as to whether or not they like you?

Let's face it. Girl's don't make it easy for you. She will often send mixed signals leaving you unable to tell if she is being friendly or flirty. If you read her signals wrong you risk rejection and embarrassment. Or worse, you blow it with a girl who wanted to kiss you.
Here is a simple and innocent move that will instantly tell you if you're in the friend zone, or if she's waiting for you to kiss her.

We respect your email privacy
About Rick Mosely Rick is the editor for TSB magazine.