Hump Day Placeholder: Christina Hendricks (Yet Again!)
I got good news and bad news for you. First, the bad news: Our regular Wednesday column Hump Day Q&A is taking the week off. Good news: Since that means we aren't going to hit our self-imposed quota for photos of hot chicks this week, we're going to have to run a Hot Chick Gallery. Today, even though there's a chance she's been the photo posted-about girl on this website, we're once again praising the curvy glory of the beautiful Christina Hendricks. Esquire just named her the "Sexiest Woman Alive" which is juuuuuust topical enough for us to post. So please, enjoy.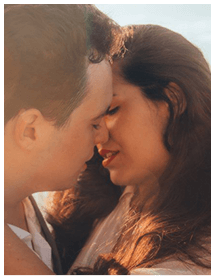 Simple Trick Tells You if a Girl Wants You to Kiss Her
Do girls leave you confused as to whether or not they like you?

Let's face it. Girl's don't make it easy for you. She will often send mixed signals leaving you unable to tell if she is being friendly or flirty. If you read her signals wrong you risk rejection and embarrassment. Or worse, you blow it with a girl who wanted to kiss you.
Here is a simple and innocent move that will instantly tell you if you're in the friend zone, or if she's waiting for you to kiss her.

We respect your email privacy
About Rick Mosely Rick is the editor for TSB magazine.