We'd Walk Across the Country For Michelle Monaghan
For whatever reason, whenever magazines and people make up lists of the most attractive women currently working in Hollywood, they seem to leave off one important member of the group: Michelle Monaghan. Who knows why she doesn't get the R-E-S-P-E-C-T she deserves, and who knows why she doesn't work in as many movies as she should … all we know is that if we were in the Robert Downey Jr.'s character's shoes in "Due Date" — needing to get across country to his lovely wife (Monaghan) before she gives birth — we would hitch a ride with Hitler if it made the journey quicker. And, trust us. We hate Hitler!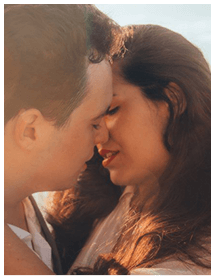 Simple Trick Tells You if a Girl Wants You to Kiss Her
Do girls leave you confused as to whether or not they like you?

Let's face it. Girl's don't make it easy for you. She will often send mixed signals leaving you unable to tell if she is being friendly or flirty. If you read her signals wrong you risk rejection and embarrassment. Or worse, you blow it with a girl who wanted to kiss you.
Here is a simple and innocent move that will instantly tell you if you're in the friend zone, or if she's waiting for you to kiss her.

We respect your email privacy
About Rick Mosely Rick is the editor for TSB magazine.