Emily Blunt Can Tie Us Up Any Day
Emily Blunt — who, amazingly, has yet to be featured in our probably-award-winning Women section — can do no wrong in our book. Whether she's playing the bitchy co-worker in The Devil Wears Prada or run through the fog screaming in The Wolfman, we could really watch her do anything. Which is why we're finally excited about the seemingly-always-in-production update of Gulliver's Travels featuring Jack Black. Will she play Black's love interest? Or a giant from Brobdingnag? Or a miniature person from Lilliput? We were about to do more research about her role in it, but then we got side-tracked looking at photos of her. Don't blame us.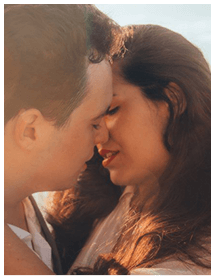 Simple Trick Tells You if a Girl Wants You to Kiss Her
Do girls leave you confused as to whether or not they like you?

Let's face it. Girl's don't make it easy for you. She will often send mixed signals leaving you unable to tell if she is being friendly or flirty. If you read her signals wrong you risk rejection and embarrassment. Or worse, you blow it with a girl who wanted to kiss you.
Here is a simple and innocent move that will instantly tell you if you're in the friend zone, or if she's waiting for you to kiss her.

We respect your email privacy
About Rick Mosely Rick is the editor for TSB magazine.