Shay Maria Changes Our Life
Mark it down. December 20th, 2010. The Day That Our Life Was Changed. How so, you probably ask? Did we discover a foolproof method for bedding that hot bartender down the block? Did we finally see The Big Lebowski for the first time? Was it the day of our first threesome? No, friends. It was the day we were finally alerted to the beauty of Ms. Shay Maria. Maria is a model from Southern California — hey Shay, feel free to look us up! — that has appeared in, well, a shitload of stuff. To make up for our lack of knowledge of her, we're doing a little bonus-sized gallery of Ms. Maria. Enjoy.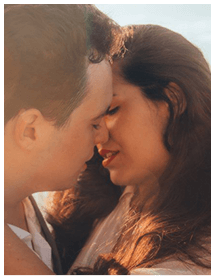 Simple Trick Tells You if a Girl Wants You to Kiss Her
Do girls leave you confused as to whether or not they like you?

Let's face it. Girl's don't make it easy for you. She will often send mixed signals leaving you unable to tell if she is being friendly or flirty. If you read her signals wrong you risk rejection and embarrassment. Or worse, you blow it with a girl who wanted to kiss you.
Here is a simple and innocent move that will instantly tell you if you're in the friend zone, or if she's waiting for you to kiss her.

We respect your email privacy
About Rick Mosely Rick is the editor for TSB magazine.