We're Going To Post A Gallery of Zooey Deschanel, Then
We have a kind of love/hate relationship with Zooey Deschanel. (Not that she has any idea about this; it's more of a one-sided thing.) She is, without a doubt, attractive in that indie hipster pixie kind of way. The problem is … she's got such a stereotypical look of an indie hipster pixie that it's unnerving and sometimes off-putting. Especially when she tries to do that whole "I'm in a band" thing. Our feelings for her are really our feelings towards hipsters in general. We like what they like, and we find them attractive in most cases, but there's still something about them that makes us loath their existence in every way possible. Whatever. You're not here to listen to our ramblings. You're here to see photos of Zooey Deschanel. Here they are.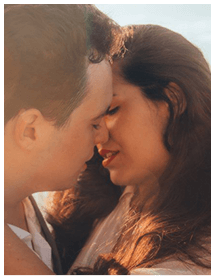 Simple Trick Tells You if a Girl Wants You to Kiss Her
Do girls leave you confused as to whether or not they like you?

Let's face it. Girl's don't make it easy for you. She will often send mixed signals leaving you unable to tell if she is being friendly or flirty. If you read her signals wrong you risk rejection and embarrassment. Or worse, you blow it with a girl who wanted to kiss you.
Here is a simple and innocent move that will instantly tell you if you're in the friend zone, or if she's waiting for you to kiss her.

We respect your email privacy
About Rick Mosely Rick is the editor for TSB magazine.